If you are interested in purchasing a painting, print, or greeting card, commissioning artwork, taking
art lessons, or have any questions or comments, e-mail me at
mitchellsaler@mitchellsaler.com
My paintings are for sale in exhibits and online on this site in Artwork
also at mitchellsaler.square.site
and pleinair.store/mitchell-saler.html
Find me on Instagram: @mitchellsaler
Find me on TikTok: @mitchellsaler
You can also find me on facebook at www.facebook.com/mitchellsalerartist
Current Events
I am showing four of my paintings in the 2022 Junior & Scholarship Exhibition at the Salmagundi Club in Manhattan from January 10 – 29, 2022. The show is in the Pool Gallery open Monday – Friday 1-6pm
and Saturday and Sunday 1-5pm. You may also view the exhibit online at salmagundi.org/2022-jrscholarship
The Salmagundi Club
47 5th Avenue
New York, NY 10003
www.salmagundi.org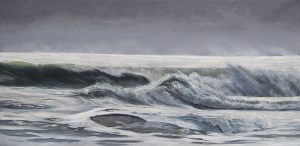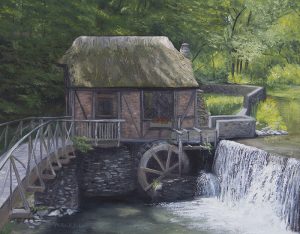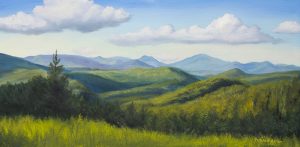 I am thrilled to have my painting on the cover of the January 2022 issue of
CANVAS
magazine, a monthly local guide for art events! I am grateful that my painting was selected and for the publication's remarkable dedication to spreading the news of the arts in our community! You can view the magazine online at
https://issuu.com/dhcanvas/docs/january_2022_canvas
My featured painting is Winter View of the Mountains, oil on linen, 10 x 8″.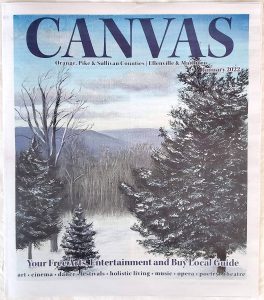 I am one of the juried artists who participated in the Hudson Valley Plein Air Festival 2021 organized by the Wallkill River School. Artists painted outdoors throughout the Hudson Valley region from October 11-15, 2021. Currently, the five paintings I created are in an exhibit of festival works at the Unitarian Universalist Congregation at Rock Tavern at 9 Vance Road, Rock Tavern, NY on display through the end of February 2022.
I am teaching an art class at the Mulberry House Senior Center from 9:30-11:30am every Thursday open to all seniors (55 and older) who would like to come (you don't have to be a Middletown resident). It is free to attend. Students may bring their own materials or a variety of art supplies are available and free to use for those who would like them as well as reference books and images for those looking for inspiration.
Mulberry House Senior Center
62-70 W Main Street
Middletown, NY 10940
I am having a Solo Exhibit with 25 of my paintings at the Stony Ford Golf Course Clubhouse.
Stony Ford Golf Course
211 Route 416
Campbell Hall, NY 10916
I have paintings in the Goshen Art League's exhibit Winter Escape that is on display at the Goshen Music Hall from December 4, 2021 – February 25, 2022. In person, viewing hours are Monday – Friday from 9am-5pm and by appointment.
Goshen Music Hall
223 Main Street
Goshen, NY 10924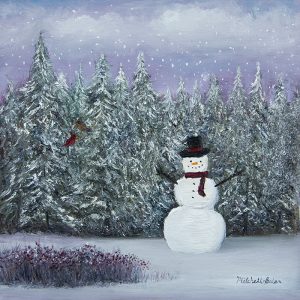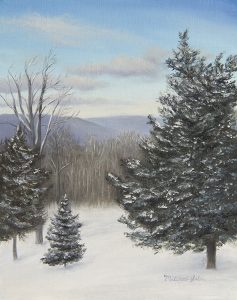 I painted as a plein air artist in the Tupper Lake Plein Air Festival 2021. Artists painted outdoors around Tupper Lake in the Adirondacks from September 22-24. I am honored that one of my paintings received the People's Choice Award. My paintings along with many of the artists' works are on view at the Tupper Arts Center.
Tupper Arts Center
106 Park Street
Tupper Lake, NY 12986
For more information and events, please read News