If you are interested in purchasing a painting, print, or greeting card, commissioning artwork, taking
art lessons, or have any questions or comments, e-mail me at
mitchellsaler@mitchellsaler.com
My paintings are for sale in exhibits and online on this site in Artwork
also at mitchellsaler.square.site
and pleinair.store/mitchell-saler.html
Find me on Instagram: @mitchellsaler
Find me on TikTok: @mitchellsaler
You can also find me on facebook at www.facebook.com/mitchellsalerartist
Current Events
I will be teaching a one-day plein air painting workshop at Winding Hills Park, 76 Old Rte 17K, Montgomery, NY 12549, with scenic lake and surrounding trees, Wednesday, May 24, 2023 from 12 – 4pm.
It is $60 ($55 for Wallkill River School Members).
Pre-register through the Wallkill River Center for the Arts in person or on their website at
https://www.wallkillriverschool.com/event/05-24-23-winding-hills-plein-air-with-mitchell-saler/
The class will include a demonstration, and I will discuss my painting process. I will assist you in creating your own plein air painting, advancing your artistic skills, and developing your personal artistic style. Beginner to advanced painters are welcome to enjoy this fun and informative class. Composition, value, color theory, atmospheric perspective, techniques and more will be addressed. I will instruct you about seeing the world as a realist artist sees it. I will be painting in oil, but you are welcome to work in a different medium such as acrylic, pastel, or watercolor, and I will instruct you in the medium you choose and compare it to my approach in oil.
For outdoor painting, you will want to wear a hat, use sunscreen, and have bug spray. Please bring an easel to set up outdoors. A limited number of French easels are available to borrow upon request in advance.
Students provide their own materials. Here is a list for general oil painting supplies and here is a list of supplies for plein air painting, but it does not have to be strictly followed. You are welcome to use the materials you have and work in a different medium than oil.
I am having a Solo Exhibit with 25 of my paintings at the Stony Ford Golf Course Clubhouse.
Stony Ford Golf Course
211 Route 416
Campbell Hall, NY 10916
I have three paintings in the Goshen Art League's exhibit Greens of Spring that are on display at the Goshen Music Hall from February 8 – May 3, 2023. In person, viewing hours are Monday – Friday from 9am-5pm and by appointment.
Goshen Music Hall
223 Main Street
Goshen, NY 10924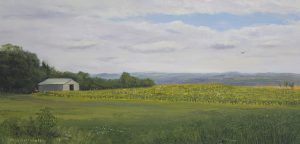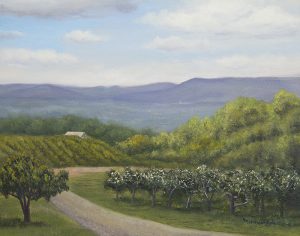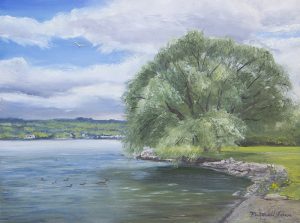 I participated in the Tupper Lake Plein Air Festival 2022. Artists painted outdoors around Tupper Lake in the Adirondacks from October 5 – 7. Five of my paintings along with many of the artists' works are still on view at the Tupper Arts Center.
Tupper Arts
106 Park Street
Tupper Lake, NY 12986
I am teaching an art class at the Mulberry House Senior Center from 9:30-11:30am every Thursday open to all seniors (55 and older) who would like to come (you don't have to be a Middletown resident). It is free to attend. Students may bring their own materials or a variety of art supplies are available and free to use for those who would like them as well as reference books and images for those looking for inspiration.
Mulberry House Senior Center
62-70 W Main Street
Middletown, NY 10940
One of my paintings is on display at the Orange County Tourism Office at 99 Main Street, Goshen, NY 10924.
A 12-minute YouTube video shows the highlights of my Virtual Artist Studio Visit presented by the Orange County Arts Council. I discuss my art and creative process as well as show the space where I paint and images of my paintings.
---
For more information and events, please read News