If you are interested in purchasing a painting, print, or greeting card, commissioning artwork, taking
art lessons, or have any questions or comments, e-mail me at
mitchellsaler@mitchellsaler.com
My paintings are for sale in exhibits and online on this site in Artwork
also at mitchellsaler.square.site
and pleinair.store/mitchell-saler.html
Find me on Instagram: @mitchellsaler
Find me on TikTok: @mitchellsaler
You can also find me on facebook at www.facebook.com/mitchellsalerartist
Current Events
I am happy to be offering 2024 calendars with a variety of my paintings. The 12-month,
8.5 x 11″ calendar presents a different oil painting for each month. Message me or e-mail
mitchellsaler@mitchellsaler.com
if you are interested in purchasing one.
They are $20 plus $5 extra if shipping.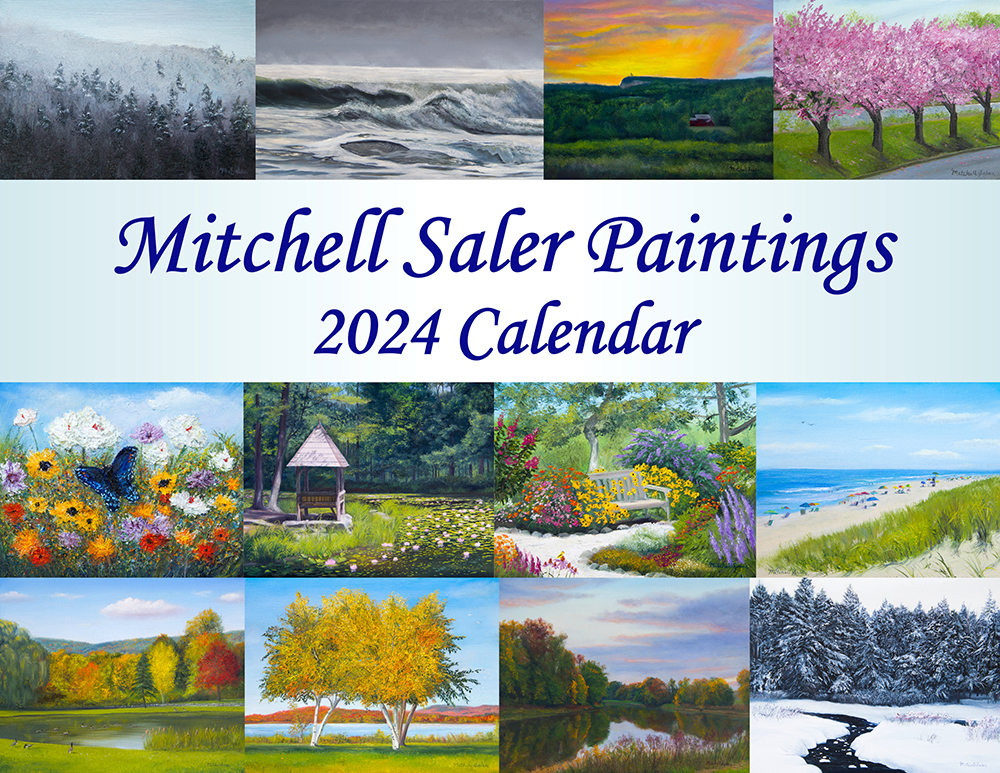 I will be showing some paintings in Pop-Up Holiday Show, group exhibit at the Wired Gallery in High Falls, NY from Friday – Sunday, December 1 – 3, 2023. A reception will be held on Friday, December 1 from 4-6pm.
Wired Gallery
11 Mohonk Road
High Falls, NY 12440
I will be participating in the Mulberry House Craft and Vendor Fair on Saturday, December 2, 2023 from 9am-2pm. I will have paintings, prints, cards, magnets, painted ornaments, and calendars on display and for sale.
Mulberry House Senior Center
62-70 W Main Street
Middletown, NY 10940
I am showing some paintings in an exhibit Reds and Oranges of Autumn that is being displayed at the Goshen Music Hall from September 14 – November 28, 2023. A reception will be held Wednesday, October 25 from 6-7:30pm. In person, viewing hours are Monday – Friday from 9am-5pm and by appointment.
Goshen Music Hall
223 Main Street
Goshen, NY 10924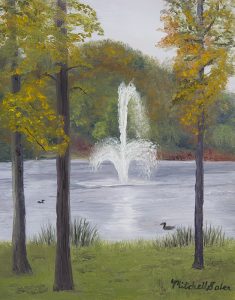 I am one of the juried artists who participated in the Hudson Valley Plein Air Festival 2023 organized by the Wallkill River Center for the Arts. Artists painted outdoors throughout the Hudson Valley region from October 9-13, 2023. A Quick Draw competition took place in Warwick, NY at the Railroad Green park on Monday, October 9 with a display of the paintings completed in just two hours on view at 1:30pm. The many paintings created outdoors by the artists during the week of the festival were exhibited from October 14 – November 5 at the Wallkill River Center for the Arts, 232 Ward Street (17K), Montgomery, NY 12549 with an opening reception on Saturday, October 14 from 12-3pm. The paintings are still available to purchase at https://wallkill.art/product-category/art-store/
I am teaching an art class at the Mulberry House Senior Center from 9:30-11:30am every Thursday open to all seniors (55 and older) who would like to come (you don't have to be a Middletown resident). It is free to attend. Students may bring their own materials or a variety of art supplies are available and free to use for those who would like them as well as reference books and images for those looking for inspiration.
Mulberry House Senior Center
62-70 W Main Street
Middletown, NY 10940
One of my paintings is on display at the Orange County Tourism Office at 99 Main Street, Goshen, NY 10924.
A 12-minute YouTube video shows the highlights of my Virtual Artist Studio Visit presented by the Orange County Arts Council. I discuss my art and creative process as well as show the space where I paint and images of my paintings.
---
For more information and events, please read News