Mitchell Saler
Fine Artist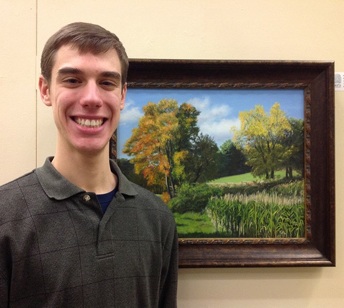 Mitchell Saler is a fine artist who primarily paints realistic landscapes in oil, though also paints textural abstracts, animals, architecture, still lifes and more. In his works, he enjoys conveying vastness, dramatic lighting, and atmospheric effects. He exhibits his art in a number of venues and participates in plein air painting events. He has received over 20 awards in various art exhibits including from the Salmagundi Club. He is a member of the Salmagundi Club in NYC, Wallkill River Center for the Arts, Goshen Art League, Orange County Arts Council, and Middletown Art Group. He graduated with an Associate Degree in Visual Arts from SUNY Orange in Middletown, NY, and received a Bachelor of Fine Arts in Painting and Drawing, summa cum laude, from SUNY New Paltz. He lives in Middletown, NY, and has been teaching art at local venues, including the Mulberry House Senior Center and Wallkill River Center for the Arts, as well as private lessons. He can be found on Facebook at www.facebook.com/mitchellsalerartist and on Instagram at https://instagram.com/mitchellsaler and his works can be purchased online on this website and at pleinair.store/mitchell-saler.html
A 12-minute YouTube video shows the highlights of my Virtual Artist Studio Visit presented by the Orange County Arts Council.
I discuss my art and creative process as well as show the space where I paint and images of my paintings.
Artist Statement
I paint landscapes that convey the vastness and power of nature. My paintings range from scenes in the Hudson Valley region, where I live, to places I have traveled, as well as depictions of natural phenomena that emphasize drama and atmosphere. Some of my paintings reference scenes from family vacations that I associate with exciting memories. I am influenced by sublime Hudson River School landscapes.
Stories about epic journeys through fantastical worlds fascinate me because they explore places that expand what is possible. For me, the intense forces, luminosity, and grandeur found in nature emanate magic. Ever-changing, amorphous properties imbue mist, clouds, and rays of light with mystery and mysticism. Clouds vary and change from massive and heavy to wispy and ethereal in an unusual, almost supernatural way. Fog can appear thick and obscure vision, though like air, it lacks tactile substance.
I feel that painting is an exciting process of illusion resembling alchemy because flat, blank canvases are transformed into dynamic, spatially vast environments. My artwork allows me to paradoxically be at a distant vantage point as well as be immersed in observing overwhelming, yet compelling scenes. Through painting and drawing, I experience meditative relaxation as well as exhilarating energy, and in my works, I balance tranquility with a majestic drama.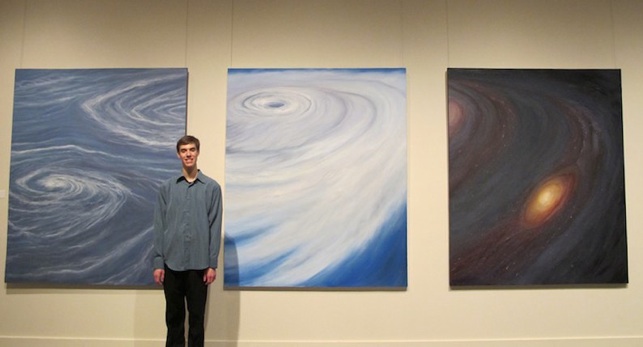 Education
2011 Bachelor of Fine Arts in Painting/Drawing, summa cum laude, State University of New York at New Paltz, NY
2009 Associate in Arts in Visual Arts, Orange County Community College, Middletown, NY
Awards and Grants
2022 Painting featured on the cover of the January issue of CANVAS Magazine
2021 Golden Quick Draw Materials Award, Hudson Valley Plein Air Festival 2021, organized by the Wallkill River School, Goshen Farmers' Market,
Goshen, NY
People's Choice Award, Tupper Lake Plein Air Festival 2021, Tupper Arts, Tupper Lake, NY
Honorable Mention, Middletown Art Group Spring Exhibition, Judge: Peter Fiore
Best in Show, Romantic Landscapes, Judge: Robert Trondsen, Wallkill River School and Art Gallery, Montgomery, NY
2020 Bill Creevy "The Oil Painting Book" Award, 2020 Junior & Scholarship Members Exhibit, Salmagundi Club, New York, NY
2019 John and Eloise Morehouse Award, 2019 Junior & Scholarship Members Exhibit, Juror: Dale Zinkowski, Salmagundi Club, New York, NY
Second Place, Quick Draw, Hudson Valley Plein Air Festival 2019, organized by the Wallkill River School, Monroe Farmers' Market, Monroe, NY
People's Choice Award, Hudson Valley Plein Air Festival 2019, organized by the Wallkill River School,
Orange Hall Gallery, Orange County Community College, Middletown, NY
2018 First Place, Plein Air Paint Out at Sam's Point , Sam's Point Preserve Visitor Center, Cragsmoor, NY
People's Choice Award, Hudson Valley Plein Air Festival 2018, organized by the Wallkill River School,
Orange Hall Gallery, Orange County Community College, Middletown, NY
2017 People's Choice Award, Hudson Valley Plein Air Festival 2017, organized by the Wallkill River School,
Orange Hall Gallery, Orange County Community College, Middletown, NY
Robert Rosenberger Hudson River Scenes Painting Award, Hudson River Art Fest 2017, Judge: Clayton Buchanan,
Tarsio Bowling Time Lanes, New Windsor, NY
People's Choice Award, Hudson River Art Fest 2017, Tarsio Bowling Time Lanes, New Windsor, NY
2016 Keys of Goshen Painted Pianos Public Art, Goshen, NY
2015 Second Place in the Oil and Acrylic Category, Ringwood Manor Association of the Arts 50th Annual Fall Open

Juried Exhibition, Judge: Ricky Bocarino, Ringwood Manor, Ringwood, NJ
2014 Third Place People's Choice Award, Welcome Spring!, Crawford Arts Association, Town of Crawford
Government Center, Pine Bush, NY
2013 Third Place, Orange County Art Federation 51st Annual Juried Show, Judge: Andrew Lattimore, Brotherhood Winery,
Washingtonville, NY
Best Plein Air Painting at the Catskill Fly Fishing Center and Museum Paint Out, Catskill Fly Fishing Center and Museum,
Livingston Manor, NY
2012 Director's Choice for Best Emerging Artist of 2012, Wallkill River School and Art Gallery, Montgomery, NY

Honorable Mention, The Orange County Art Federation 50th Anniversary Annual Juried Members Exhibition,
Judge: Jason Gaillard, Orange Hall Gallery, Orange County Community College, Middletown, NY
Honorable Mention, Middletown Art Group Spring Exhibition, Judge: Clayton Buchanan, Orange Hall Gallery,
Orange County Community College, Middletown, NY
2011 Alex Martin Scholarship, State University of New York at New Paltz, NY
Honorable Mention, Middletown Art Group Spring Exhibition, Judge: Andrew Lattimore, Orange Hall Gallery,
Orange County Community College, Middletown, NY
2007 Art Purchase Award, Minisink Valley High School, Slate Hill, NY
Affiliations
Salmagundi Club, New York City, NY
Wallkill River Center for the Arts, Montgomery, NY
Orange County Arts Council, Goshen, NY
Goshen Art League, Goshen, NY
Middletown Art Group, Middletown, NY
Professional Experience
2021 – 2023 Art Workshop Instructor, Glen Arden, Goshen, NY
2020 – 2023 Art Instructor, Wallkill River Center for the Arts, Montgomery, NY
2018 – 2023 Art Instructor, Mulberry House Senior Center, Middletown, NY
2015 – 2023 Art Workshop Instructor, Middletown Park Rehabilitation and Healthcare Center, Middletown, NY
2018 – 2019 Art Workshop Instructor, Campbell Hall Rehabilitation Center, Campbell Hall, NY
2012 – 2017 Graphic Artist and Technical Assistant, Cultural Affairs, Orange County Community College, Middletown, NY
2013 – 2017 Jeffrey A. Weiss Memorial Art Series Workshop Teacher, Elant at Goshen, NY
2011 Teaching Assistant, State University of New York at New Paltz, NY
For resume, contact mitchellsaler@mitchellsaler.com